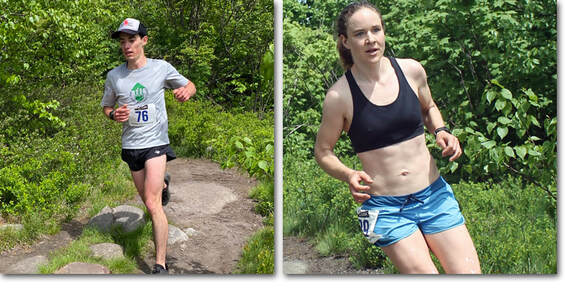 25 years ago this week, two adventurous runner-hikers decided to run the Pok-O Patch course. Greg and Skip covered the route in a time of three hours, 14 minutes, on a beautiful late spring day, and crowned their effort The Patch Sprint.
A quarter of a century later, the course is two miles longer, the field is 150 runners larger, and the finish times are well over one hour quicker. And the day was just as perfect
---
Elite runners and race rookies A.J. Beers (Manlius, NY) and Pandora Down (Willsboro, NY) took the overall championships. Both completed an impressive double, as Beers captured last year's Pond Sprint, while Down set a women's course record in the winter sprint, earlier in 2021.
Lots of reasons to jump for joy this year! "I wanted to stay relaxed until after the Rattlesnake descent, then see how my legs were doing and start pushing from there", said Beers. "The course will definitely punish you if you go out too hard! I suffered a lot up Pok-O (in mostly a good way) and having never been up it before, it felt like it was never going to end! At the start of the climb I looked down towards the aid station and saw Jeremy (Drowne) not far behind. I knew he was strong on the uphills so I told myself to just keep moving and run any of the flatter sections"
---
Beers (1:57:55), and race runner-up Jeremy Drowne, just over a minute behind, became the second and third racers all-time to break the two hour barrier (see RESULTS). "Sorry I got so carried away on top but I was very happy. A.J. was just better, but I ran the race I've been trying to run for awhile. I don't think I have ever been so excited by a race that I didn't win. I love, love, love the Patch Sprint!"
Kindersprint Winners Third place went to 2017 champion Sean Davis. "…felt good today! A bunch of fast guys at the front; A.J. and Jeremy had great races."
Pandora Down's winning time of 2:27:52 was fourth fastest all-time for women, behind Deb Nordyke and Patty McCormick, both of whom captured age-group trophies this year. (SEE Patch Sprint RECORD BOOK). "My strategy was based on running with (three-time champion) Cole Starkey, Down said. "He had pretty specific splits he thought we should make for Bare, Rattlesnake, etc. We aimed to make those and it went pretty well.
"What a great race and a fun day! I loved the course, I was impressed by the competition!"
Teenager Katrin Schreiner was second among the women. With her finish time of 2:36:56, all five members of her family have now bettered three hours. Sarah Gardner captured third.
Other division champions included Josh LeBlanc in the Half-Sprint; siblings Sophie and Eddie, setting a new course record in the Kindersprint; and veteran racer Ken Ryba, taking the Clydesdale division for the fourth time overall, but the first time in 11 years.
---
---
Thanks to all of the racers and trekkers who took part and, especially, to the volunteers, along with our hosts at Pok-O-MacCready Camps and the Adirondack Scholarship Foundation.
"Everything about the Patch Sprint is unique and awesome. The course gives you some of the best views in the area, the trails are challenging, and the people behind the race are so welcoming and genuine. The competition is made of some of the best runners in the area, and everyone is so down to earth, and are there for the same reasons. There really isn't another event like it and it supports a great cause." -A.J. Beers: 2021 Champion