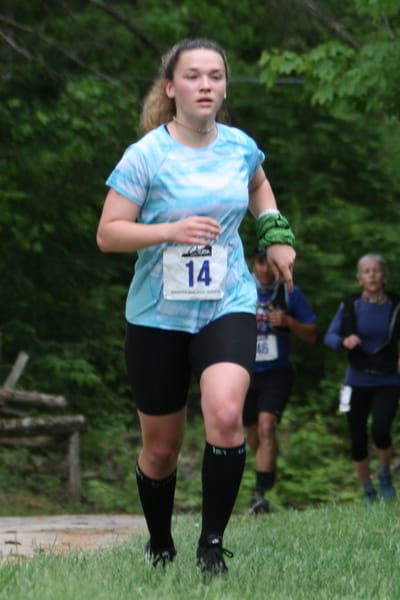 What is the Patch Sprint?:
The Patch Sprint is an annual event in which participants climb all four Pok-O Patch mountains (Bare, Rattlesnake, Sugarloaf, and Poke-O-Moonshine) in one day. The length of the course is approximately 13.5 miles.
Race fees for the event are kept to a minimum so that supplemental donations will go directly to our beneficiary, which helps children attend summer camp.
Location
: Camp Pok-O-MacCready, Willsboro, New York, The Adirondacks.
Eligibility
: To be eligible, participants must be either:
A) A member of the Pok-O-MacCready "Family" (camper, staff, alumni)
B) A racer, trekker, volunteer or guest making a donation to our
charitable organization
.
Date and Start Times: Saturday, May 27
- 7:00 or earlier - "Non-competing Trekkers" (Walking the course. Communal start at exactly 7:00)
- 8:30am - Recreational Runners and Racers, planning to take 3+ hours to finish
- 9:00am- Half-Sprint start time
- 9:30am - Elite Racers, and those planning to finish course in less than three hours
-10:30am - Kinder Sprint begins at the base of Mt. Poke-O-Moonshine.
The Starting Line(s):
- Patch Sprint Starting area = Stone Pillars at the entrance to Camp Pok-O-Moonshine.
- Kinder Sprint Starting area = Base of Mt. Poke-O-Moonshine.
Fee
: $50 for full-course racers & trekkers ($65 after March 15)... ...$20 for Kindersprinters... $25 for Half-Sprint...
$8 - individuals attending Awards dinner... $75 for full weekend overnight guests (non racers/trekkers/volunteers/chaperones)
The mandatory fee will cover the costs of the aid station supplies, event giveaways, awards and prizes, post-race party, lodging, and administrative costs. Preferred payment is online after registering. All participants will receive a commemorative shirt if registered by April 30. Refunds will not be granted to participants dropping out after May 1.
* Fee
does not
include your donation to the Adirondack Scholarship Foundation.
Divisions
: There will be several
divisions
in the Patch Sprint 2023. Please be sure to specify your division when you fill out the registration form. Click
here
for more information.
Official Rules
: Please read all Patch Sprint
Rules
before you register.
The Course
: The Patch Sprint Course begins at the pillars located at the entrance to Camp Pok-O-Moonshine and ends when you reach the top of Mount Poke-O-Moonshine (approximately 13.5 miles).
Racers and trekkers are given some flexibility in choosing their route, but must reach the true summits of all four mountains in order (Bare, Rattlesnake, Sugarloaf, Pok-O-Moonshine); pass through the 1812 Homestead two times; avoid any posted closed trails, and cross through the Northway (I-87) tunnel.
The use of any external device (bicycle, boat, skateboard, etc.) is prohibited.
The Kinder Sprint covers the final 1.6 miles of the course (begins at base of Poke-O-Moonshine and finishes at summit of Pok-O)
READ MORE about the course HERE
Awards
: Medallions go to all course finishers... Prizes will be awarded to the top finishers in each division and decade age group... The fastest man, and fastest woman receive perpetual trophies... The overall fastest time (from the 9:30am start), irrespective of gender and division, receives the coveted "Janny". Special recognition awards are also presented.
Aid Stations
: Aid Station locations and supplies may be found on the Patch Sprint Official Rules page. Some Aid stations will have volunteer personnel; please be sure to thank them as you refuel.
Rain Date
: Unlikely.
Pre-Race Day Festivities
: On Friday, May 26, at 6:30 p.m., there will be a pre-race carbo-loading dinner. The race director will cover the general rules, the course, volunteer assignments, and answer any questions. The carbo-loading dinner will be held at Camp Pok-O-MacCready. The dinner will be held in conjunction with race check-in, and a race expo.
Post-Race Festivities
: There will be a post-race party, and awards ceremony, on Saturday afternoon., with plenty of food and beverages for all. Exact time and location tba. An after-hours gathering is planned at Ausable Brewery.
Lodging
: at Camp Pok-O-MacCready is complimentary and available only for registered racers, trekkers, volunteers and guests. (view more housing options) ** MEALS & LODGING DEPENDENT UPON COVID-19 RESTRICTIONS **
Registration Deadline
: Please see our
REGISTRATION
page for full schedule (*Please note: In past years, racer and trekker registration has closed as early as March 18).
Payment
: May be made online by using Credit Card, PayPal, OR
Make checks payable to "Adirondack Scholarship Foundation" and mail combined event fee and donation payment to:
Patch Sprint, c/o Tim Singer, 63 Maple Leaf Lane, Shelburne, VT 05482. You will be receipted for the donation portion of your payment.
To Register
: Go to the On-line
Registration
Form and submit your registration today!
Questions/Comments: May be
Emailed
to the race organizers (Spencer Aronstein, Tim Singer, Annie Preston).