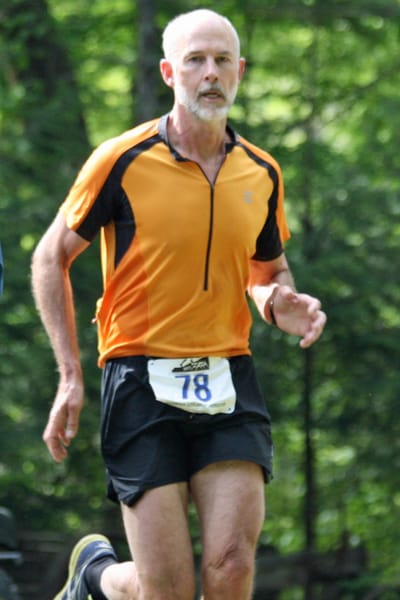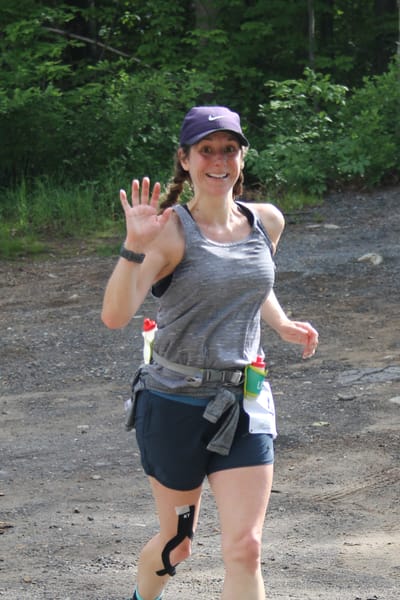 All participants must accept, and sign a waiver of liability and a photo/media release form
TRUE SUMMITS
- All participants must reach the actual summits of all Patch Mountains. Official summit timers will write down your summit times or you will sign in on a sheet located at the true summit. The official order of the mountains is:
Bare - Actual summit is another 1/3 mile farther up beyond the "bare spot" overlook.
Rattlesnake - To reach actual summit, first go to Lake Champlain lookout spot (where big boulder is). Continue on the small road that heads north along the ridge. You will pass one clearing, then at the second clearing turn left into the woods. This cutoff (and remaining route to top) is marked with flagging. Summit rock is about 100 yards into the woods.
Sugarloaf - A well marked trail travels to (and ends at) the exact summit of the mountain.
Sugarloaf to Pok-O - A flagged route will take you from the Sugarloaf Summit to Fieg-alley. ALL RUNNERS / TREKKERS MUST CROSS INTERSTATE-87 VIA THE ON-COURSE TUNNEL.
Poke-O-Moonshine - If you can't find the top of this well marked mountain, reconsider doing this event. (MORE COURSE DETAILS HERE)
RIGHT-OF-WAY
- Participants running down a mountain have the right of way. Participants on the way ascending must walk on the right hand side of the trail to allow participants running down to pass.
AID STATIONS
- The following places along the course will have aid stations containing the following supplies:
| | | |
| --- | --- | --- |
| Mile | Location | Aid Supplies |
| 2 & 5.8 | 1812 Homestead | water, Gatorade, chocolate, bananas, gel |
| 7.3 | White's Road (back of truck at turn) | water, Gatorade, chocolate, bananas, gel |
| 9.5 | Between Sugarloaf & Poke-O | Cooler setup with water and candy |
| 11.8 | Base of Poke-O (located at or near trailhead) | water, Gatorade, chocolate, bananas |
Each Aid station will be equipped with a trash bag. Please leave trash in the trash bags.In addition to trash bags at all aid station locations, there will be a trash bin at the junction of White's road / Reber Road and the base of Pok-O.
1812 HOMESTEAD
- Racers must pass through the covered bridge at the 1812 Homestead two times: On the way from Bare to Rattlesnake, and on the way from Rattlesnake to Sugarloaf. No shortcut avoiding this checkpoint is allowed. There is an aid station located at the Homestead.
NORTHWAY TUNNEL
- All participants must use the Tunnel to cross underneath the Adirondack Northway (I-87). To reach the tunnel, bushwhack off of Sugarloaf to the road behind Sugarloaf. Take the road toward the Northway all the way to the end. At the end, about 100 yards from the Northway, you will see a small dirt mound and orange flagging on a downed tree. Go right at this marking. The trail, known as
Fiegalley
, is very well marked with orange flagging all the way to the tunnel. It's not as long as you think, but it's longer than you want it to be!

UP AND DOWN POKE-O
- The final portion of the race, up Poke-O-Moonshine mountain, is on a newer, longer trail. This route is mandatory-- enjoy the scenery! Additionally, race organizers ask - at the request of the DEC - that participants descend the mountain via the south trail.
SUMMIT SUPPLIES
- Please make arrangements to have a trekker or volunteer carry your personal summit supplies to the top of Poke-O-Moonshine. Summit supplies may include change of clothing, food, beverages. If you cannot find someone to carry your gear, please prepare your summit supplies and leave them with an event official by race time on Saturday morning. Please keep your supplies to 10 lbs or less. Trekkers must carry their own supplies. Event organizers will try to carry some water, and emergency first-aid provisions to the summit, but this is not guaranteed. Ideally, your stay on top will be brief and you should descend to the post-race parties. RACE SUPPORT & CUTOFF TIMES:
Aid Stations
Summit Timing
1812 Homestead
8:00am - 11:15am
Bare
8:30am - 10:00am
White's Road
8:30am - 12:00pm
Rattlesnake
9:00am - 10:45am
Upper Pok-O Trailhead
10:30am - 1:00am
Sugarloaf
9:30am - 11:45am
Lower Pok-O Lot Shuttles
12:30pm - 2:30pm
Pok-O-Moonshine
10:45am - 1:15pm
DROPPING OUT
- Should injury, getting lost, or voluntary withdrawal result in you dropping out prior to the completion of the course, please alert a race official, summit timer or aid station volunteer ASAP.
Courtesy Rule #1
- Portions of the Patch Sprint are staged on private land. Should you see an unfamiliar face along the way, assume it is the land owner; please politely say "hello" and/or "thank you"!"
Courtesy Rule #2
- Should you see any other racer veering well off-course (in a manner that could lead them to getting lost), please alert them of this fact.
AGE REQUIREMENTS
:
11 and under: Must be chaperoned, and may enter the Kindersprint, or trek the course.
12-17: With a signed agreement by parent or guardian, they may race or trek the course alongside a chaperone or "buddy".
18-up: May take part in any division.
CHAMPIONSHIP REQUIREMENTS
:
The OVERALL CHAMPION ("The Janny"), MEN'S CHAMPION & WOMEN'S CHAMPION will be recognized from the 9:30am start only .
CLYDESDALE, and AGE DIVISION champions may come from 8:30 or 9:30 starts.
HALF-SPRINT DIVISION champion must come from Half-Sprint (9:00) start.
NO ONE MAY RACE OR TREK THE PATCH SPRINT WITHOUT HAVING PAID, OR MADE PRIOR ARRANGEMENTS FOR THE PAYMENT OF YOUR RACE FEE. ALL RUNNERS AND TREKKERS MUST SIGN A WAIVER OF LIABILITY. RACE NUMBERS MUST BE WORN.
THE PATCH SPRINT IS A PRIVATE, FUNDRAISING EVENT, open to members of the Pok-O-MacCready "family" (current and alumni); invited guests; and racers and trekkers donating to the Adirondack Scholarship Foundation.. All registrations are subject to approval.